residencies 2010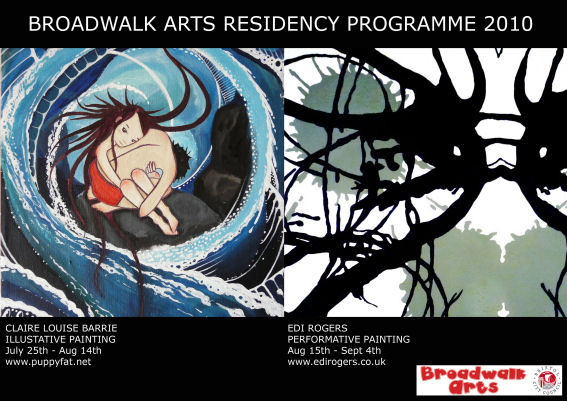 In residence
From July to September Bristol based artists Claire Louise Barrie and Edi Rogers will be taking over the gallery space at Broadwalk Arts. Broadwalk Arts received funding from Bristol City Council to support Bristol artists. This has taken the form of a residency programme. Each artist will spend three weeks using the space culminating in a joint exhibition of new work later in the year.
Claire Louise Barrie will be at Broadwalk Arts from 25th July to 14th August. She uses acrylic and gouache to create paintings that remove the fixed boundaries of reality, presenting characters in dreamlike and unexpected situations. A strong affinity with East Asian culture is apparent in her work, this developed during a summer spent in Southwest china. During her residency Claire will be producing a series of large scale landscape paintings inspired by a recent trip to Galilee, Israel.
Edi Rogers will be using the space at Broadwalk Arts from 15th August to 4th September. His practice takes on many forms including painting, photography, sculpture, performance and dance. Edi is currently focusing on his interest in the social behaviours of people whilst also experimenting with using dance and movement to create objects and images. During his time at Broadwalk Arts Edi intends to continue his experiment with movement to create a large painting, whilst documenting the various stages of production.