Thresholds/Limitations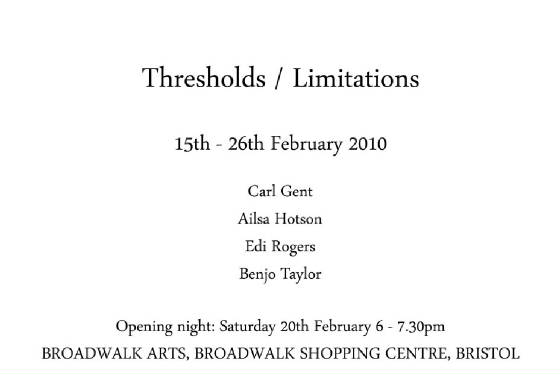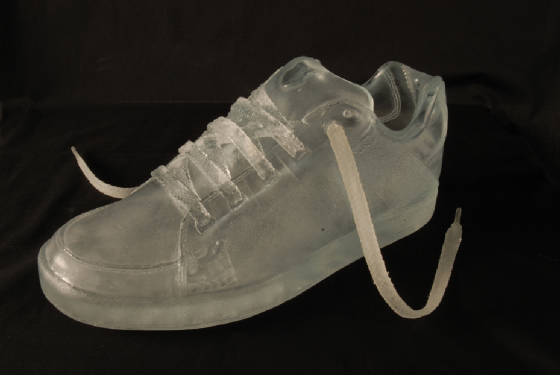 Four artists present works that hover upon the edges of understanding and acceptability, that sit neither in one camp of opinion or the other, rather they seek to either bridge the gap between different codes or test the limitations of certain media in presenting previously accepted truths and ideas.
In Benjo Taylor's Projected, we are shown home videos from the artist's youth. The footage is primarily taken during birthdays or sporting events and, presented together this subconsciously directed documentation enables the projection of a happy narrative of the past. The truthful authority of the camera lens is undermined. Furthermore, we are witness to the artist's own response to watching the films and our consumption of archival footage comes under scrutiny. Do we use these tools that are intended to document life as safeguarding our future perspectives upon our past?
In Carl Gent's Abstracting the Apocalypse series of work, the sensation of protection and psychological safeguarding again seems apparent. Photograms produced through exposing photographic paper to television sets that display disaster movie stills have become calming, almost placid images. This forced abstraction can be taken as a device intended to locate formal similarities in various cinematic apocalypses. However, it can also be read as an imposed distance upon the traditional cinematic experience. By presenting abstracted stills we are forced to re-evaluate the images of destruction we have become so accustomed to using as entertainment. What exactly is the nature of the pleasure we derive from catastrophe? Is it a negative or a positive force upon our lives, and what happens to this enjoyment when the on-screen nightmares begin to resemble the outside world?
Ailsa Hotson's work deals directly with fairytales and the psychological currents contained within these well-loved stories. Seeking to update the central narratives in several fairytales into contemporary sculptural forms, Hotson disposes of any possible nostalgia that might exist in the original stories and leave us with the bare facts of the narrative. A glass slipper becomes a glass trainer on a gaudy red cushion. Red Riding Hood becomes Red Riding Hoodie. With these transformations we are left to confront the moralistic codes within fairytales – we become not more aware of what was contained within the narratives, for we were already aware of this, rather we become aware of our own compartmentalisation and how we have knowingly chosen to perceive these tales in a more innocent manner and we are left to question our own levels of self-censorship.
Finally Edi Rogers' "EDI (Encouraging Diverse Interaction)" is the most recent in a series of the artist's public interventions. Rogers has identified potential areas within Broadwalk Arts to exist as EDI AREAS. Within these areas members of the public are invited to explore their own social and physical limitations with regards to their personal and public space. Through invitation, Rogers has challenged the viewer to engage and create the work themselves and, most vitally, test the limits of perceived acceptability.