Joanne Bavin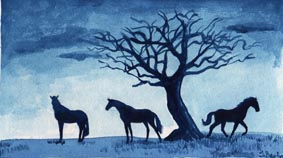 Joanne Bavin, a local Artist living in Bristol , is holding an Exhibition of her artwork at Broadwalk Arts Gallery, located at 14 Broadwalk Shopping Centre, Knowle, Bristol . The Exhibition runs from 21st -27th June 2009 .
The paintings she creates are colourful and vibrant, she uses Acrylic paints on paper and card. Her subjects include Horses, Sealife, Wildlife, African Art and Romantic scenes. Some of her designs have been used to decorate mugs, mousepads, clocks, jewellery boxes, postcards and posters. The variety of her work appeals to people of all ages.
Joanne creates designs for the churches in her local area, and designs artwork for Greeting Card Publishers, she has had work published by Mugumo Art Creation in London , and has work licensed by Sourire African American Gifts.